Our first major update has now been rolled out and offers many improvements and exciting features.
Most of our updates have happened based on valuable feedback we have received from our amazing beta users and pilot customers.
Shortly after the opening of our beta, it became clear that we were on the right track, but that there were some absolutely essential things that needed to be improved. The loading speed was far too slow and there were many who requested the ability to manage multiple domains with one account.
Not all changes were equally easy and some have also given rise to major IT architectural changes which in the future will mean a much faster, stable and intuitive platform for our users.
This update is divided into three different categories:
Features
UX
Core (text analysis)
Here's what this update has made possible:
Feature:
Add as many domains as you want and switch between them with one click.
New filters like language, local, page types, and more.
Opportunity to request a fresh analysis of all link opportunities and target pages.
The ability to mass export and add to list when prospecting.
The ability to mass export lists.
UX:
Load hundreds of link opportunities in a few seconds.
Manage target pages directly from the Link opportunities menu as well as have an overview of your analysis credits balance.
A much simpler sign-up flow makes it easy to create an account without having to verify with a Google Search Console account.
Opportunity to prospect from mobile devices. Link opportunities are now responsive.
Menus now have more intuitive labels.
Help texts are now put on all important features and data points.
LRS is now more noticeable and easier to sort link opportunities with.
Core:
Anchor text suggestions/inspiration based on relevant keywords and surrounding context are now displayed for each link opportunity.
More context data is being used in the LRS, such as the suggested anchor texts relevance.
More Content topics included which gives more relevant link opportunities.
Bugs, when LRS is in the process of being calculated for freshly analyzed pages and cannot be exported, are fixed. Text analysis request does not crawl properly bug is fixed.
In the following, we will review the parts of the update that we are most exited about.
Multiple-domain update
It has been a wish from day 1 that it should be possible to add multiple domains. This is because our users often have more than one domain to prospect for.
For example, the user may separate their blog on a .blog.com – domain, which of course must be taken into account. Others work with multiple clients and therefore also have a natural need to be able to prospect and make lists for different domains without having to change accounts.
In addition, it should also be easy to switch between its domains and therefore we have chosen to integrate it as part of the account button in the upper right corner of the interface.
Here is how it works:
Speed improvements
WE have struggled with the loading speed when you should see link opportunities for a target page. This is because our data is text heavy and is dynamic in relation to the target page you use.
We have therefore been forced to change large parts of our backend and optimize on the smallest details to increase speed.
We are also quite proud of the output. An average speed optimization of not less than 1666%.
So what does that mean for you?
From before where it could easily take a minute of loading 1000 link opportunities, today it will take 2 seconds.
Here is a real life example: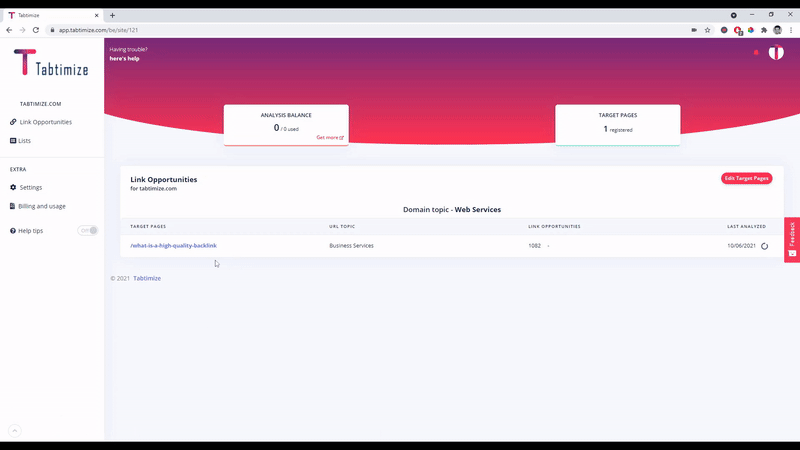 A more intuitive platform
If you have been a regular user of Tabtimize, then you are probably one of those who have been confused about how to actually navigate around and how to add pages so you can prospect.
This has been a big problem and even though we initially thought we had a genial interface, we had to be right that you were right.
Therefore, we have also changed a lot in our UI and have made it possible for everything most important to be done from the Link opportunities menu.
Now you can both add your sitemap, add target pages, have an overview of your analysis credits balance, and that there is easy access to helpful resources.
The improved Link opportunities menu: