Good news for all of you who want an easier way to outreach and build backlinks. Today we have been able to publish our first demo video on the Link Community feature. There has been a lot of question about what one can use the tools that Tabtimize offers for.
There are many use cases for what Tabtimize can be used for, but one of the ones we are most proud of is the Link Community feature.
The idea behind the Link Community feature is that it should be easier for website owners to reach out to other website owners and request a link.
Unfortunately, there are far too many who are contacted by "outreachers" who offer no value in return to those who have to link out.
This is something we would like to change and make sure that the link benefits both parties.
A backlink can help you increase your popularity in the search engines, but an outbound link (when you link to others) could benefit your users and could also give you value in relation to the search engines. Especially if you link to relevant sources, which is also why we recommend that you take the time to read the content from the other user.
Join the waiting list for the Link Community feature and be among the first to build relevant links with Tabtimize.
Sign up for the waiting list now and get 3 months of free use, (worth $ 300).
The Link Community feature demo video
Before we show the video, we want to add some background knowledge to how it has been made.
There were two constrains associated with creating the video.
It should not cost us anything.
We have a week to make it.
These two things make it a bit difficult, but we finally managed after 6 days and 14 hours to upload the video to Youtube.
Here it is:
Break down of the video
As there could possibly be questions in relation to the video, we will in this section try to break the video down into smaller parts and elaborate on the parts that the video does not focus on.
So to find relevant link options in Tabtimzie, you can with features in the menu items Link Opportunities, Link Explorer, Relevance Comparison, and Competitor, find and request links from other website owners.
Both the Link Opportunities and Relevance Comparison functions only show relevant link opportunties, where the Link Explorer and Competitors feature allows you to request links from web pages that do not necessarily have a relevance to your own page.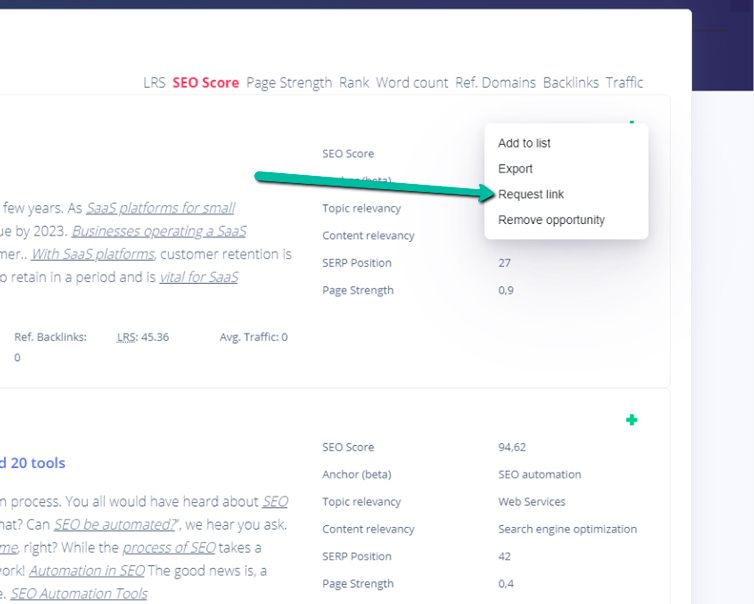 The image above shows how to request a link in the Backlink Engine's Link Opportunity feature but the process is the same for what feature you use for finding and requesting a link in Tabtimize.
When you have found the link opportunities you want a link from, you press the green plus icon, after which a list of different options appears. You select the "Request link" option, after which a new box will appear with various options in connection with the link request, which you must decide on.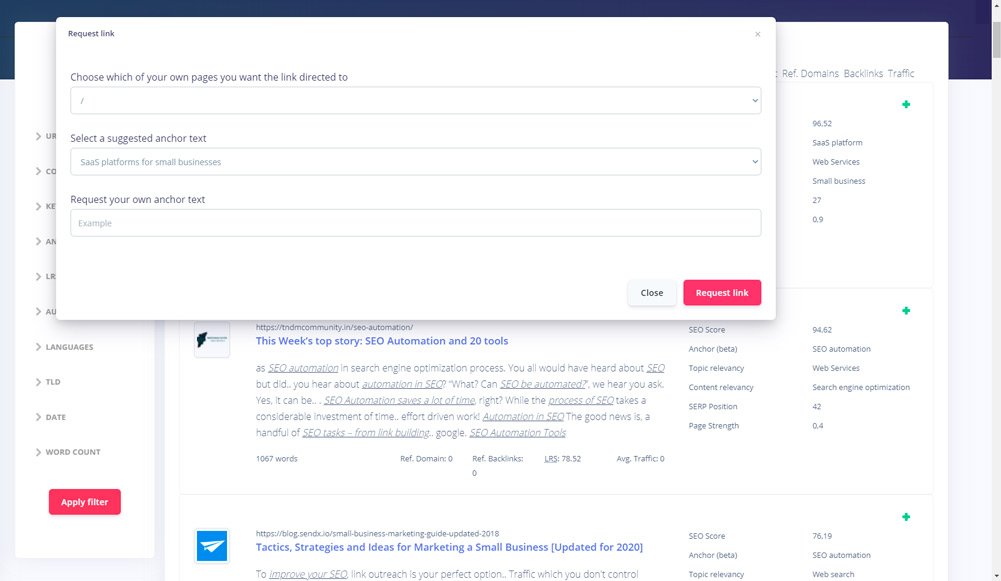 In the Request link box, you have the option to specify which of your own web pages you want the link to be directed to. You must also choose whether you want to use one of our suggested anchor texts or whether you want to request your own anchor text.
The thing with anchor texts, however, is that the LRS you see in the link opportunity card is calculated according to the highest possible LRS in relation to the proposed anchor texts.
So if you request a different anchor text, or if the other user chooses to use a completely different anchor text (if it fits better into his content), then the final LRS could also change.
Therefore, we recommend that you take into account some of the keywords that best match your two pages when choosing your own anchor text.
If you hover over "Anchor (beta)", then in cases where there is more than one keyword in the anchor suggestion, a box will appear with the remaining words that you can include in your own requested anchor text to minimize the risk of the LRS not taking a giant dive down.

You may have a question as to why "beta" is represented as an extension of Anchor?
Beta is represented because this feature is still in early development. Therefore, it is also not always that the anchor suggestion takes all words into account and there will sometimes be incorrect compositions in sentences. In these cases, it will also be beneficial to request your own anchor, where the sentence is refined so that it makes sense.
In continuation of the above, you can also contact the other user through the "Contact Owner" option, to clarify why you have requested your own anchor text.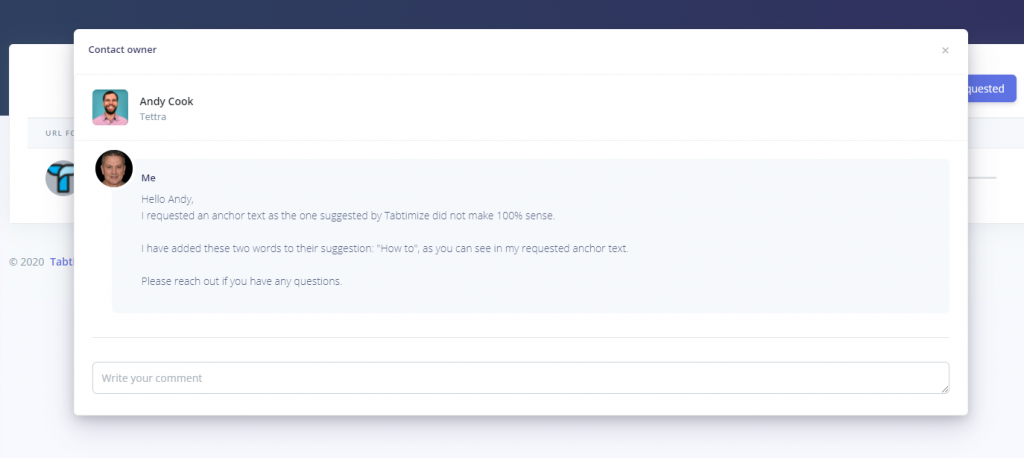 Approval of the link request
Once you have submitted a link request and the other user has approved your request, the person has 48 hours to upload the link.
The reason for this is that there should be a fair time frame for both requester and approver. So the requester does not have to wait indefinitely to get the link uploaded and live, and the approver must also have a fair amount of time to insert and upload the link.

In "My requests status" you can follow the time from when your link request is approved until it is either uploaded or expires to cancel status.

If the request expires to cancel status, then the hope of a link from this page is actually not completely extinguished. Because when a link request expires, it is practically put on hold.
In the "Requested" menu it will appear as "Canceled (due to expiration time)".
When you press the options button on the far right, a new option appears, namely "re-request link". Here you can practically send the same request again. However, it may be a good idea to write to the web page owner, to ensure that he still has an intention to upload the link.

NOTE, you can only re-request once. This means that if the person after the second time also does not upload the link in time, then the link request will be lost for good.
Website owner profile
When you create an account at Tabtimize, you also automatically get a Tabtimize website owner profile. In this profile, you can state your website information as well as email and link to your LinkedIn.
A summary of a website owner's profile is displayed when clicking on the small profile image which appears in the "My requests status" menu item.
When you hover the mouse over the image, a title with the person's name is displayed and if you click on the image, the person's profile summary is displayed.


When you click on the profile picture, you will see the box with the owner's information. Here you can see how many websites he has signed up for Tabtimize, you can see the number of pages he has available, and how many links requests he has approved.
The latter can give you an idea of how willing this user is to accept link requests.
You will also find other practical information, such as the person's name, the organization he belongs to, the website you have requested a link from, and the type of business the associated website belongs to.
All this can also help you understand and decide if you two are a good match in relation to linking. Who knows, maybe you can help each other create value in ways other than link building?
Should it be your turn to build relevant links that will accelerate your rankings?
Sign up for the waiting list for the Link Community feature and be notified when the feature goes live.
We hope you found our video informative and that you feel like being part of Tabtimize's Link Community so we can help each other build relevant and valuable links that our own users benefit from.
If you have any questions or would like to attach a comment to this post, then feel free to write a comment below.
Stay up to date on news from Tabtimize on our Youtube channel.