What is the SEO Score?
The SEO Score is a score that Tabtimize has developed to decide how well a website's search engine optimization (SEO) is.
The idea behind the SEO Score is to be able to quantify a large number of different supposed ranking factors or search engine factors. These should be used to understand how a given web page performs in an SEO context but not how they should rank.
The score is given on a 1-100 scale, with 1 being the worst score and 100 being the best score.
In theory, there should be a correlation between a high SEO Score and high rankings.
However, it should be emphasized that this is NOT a dictated Google metric, or otherwise an algorithm used by Google. This is a metric that Tabtimize has developed based on best practices, case studies, correlation studies, and official guidelines.
What criteria are taken into consideration in the SEO Score
Tabtimize uses over 150 different factors/criteria to calculate the SEO Score.
Both on-site and off-site criteria are used, as well as user interaction criteria.
As the SEO Score is also used as part of the Tabtimize's Backlink Engine, we, like Google, have to keep key criteria weightings secret, to avoid manipulation and exploitation of our algorithms, which may ultimately compromise the quality of the link analysis we offer.
However, we advocate for transparency and therefore we will also share the main elements of what is considered in the SEO Score.
The following levels of criteria are evaluated:
User interactions criteria (Users only)
On-site and off-site scam criteria
Specific examples of assessed criteria in relation to the criteria level:
Example of a Host level criteria:
HTTP Status code – What type of status code does the page we are trying to analyze have. This criterion addresses whether a page is ok, redirected, or not found.
Example of a Site level criteria:
Sitemap – To better understand the structure of a website, we try to find a sitemap of the website. If we do not find a sitemap, we do use other methods to understand the structure, but the sitemap makes things a lot easier for us.
Example of a Page level criteria:
Title tag – Anyone who has worked with SEO should know that the title tag has had a huge impact on search engines' understanding of a page. Some will argue that its significance is more or less significant today, but this is a talk for another time.
We look for a handful of different criteria when looking at title tags. For example; If there is a title tag on the page, does it contain a text, what is the length of the text, what words are in the text, and does the text relates to the page's content.
Example of a User interactions criteria:
Click Through Rate (CTR) – For those of our users who have added their Google Search Console account, we can see what CTR different pages have. For pages we do not have this information, we use a formula based on what the average position pages are and how many searches there are on the words the page is about.
Example of a Backlink criteria:
Number referring backlinks – This criterion tells us how many backlinks the page has. The number of backlinks can give an indication of how authoritative a page is.
Example of a Scam criteria:
On-page ads – What we are looking for here is whether there are advertisements on the page and to what extent these advertisements occupy the page. Are they part of the main content?
How is the SEO Score calculated?
Each of the over 150 criteria that is assessed in the SEO Score is assigned a weighting in relation to its impact on its overall ability to increase, decrease, or hurt the SEO of the site.
In addition, there are specific criteria that relate to each other, which means that they can influence each other either positively or negatively, depending on how one or the other criterion is evaluated.
This makes the SEO Score very complex and it can be very difficult, almost impossible, to get a score of 100. The reason why it is good that the SEO Score is so complex is not actually because it has to be used to predict or imitate Google (which will be impossible anyway), but because it should be used to evaluate the quality of a link opportunity beyond relevance. So, it can best be ensured that users are not shown results with low-quality pages, or the least it should be possible to sort out low-quality pages based on the SEO Score.
What is a good SEO Score?
It can be difficult to evaluate a single page's SEO Score, without comparing it with other pages, to understand whether the score that one's page has is good or not so good.
Fortunately, we are in the position where we have been able to compare thousands of SEO Score and measure which score one should strive to have.
Obviously 100 is the maximum score, but as mentioned earlier, the score of 100 is almost impossible to achieve, so what can be defined as a good SEO Score?
A good SEO will be above 90. That being said, there will be cases where essential criteria are not met that you could possibly think are important when you need to receive a link from a page.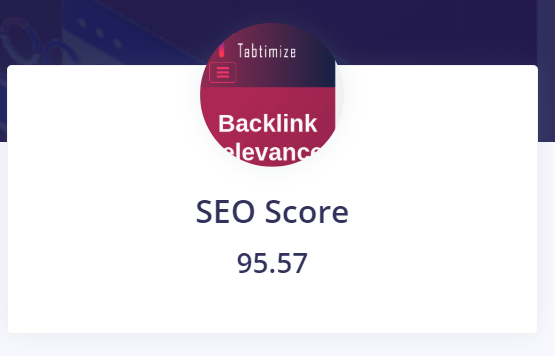 This also means that if a page has a score below 90, it should not be rejected immediately, as it may be a collection of less important criteria that have not been met or only partially met, which is the reason for the low score.
Therefore, it will always be a good idea to add SEO specific criteria to your search/sorting of link opportunities if you also use the SEO Score as an assessment criterion.
What can the SEO Score be used for?
In addition to using the SEO Score in the Backlink Engine, you as a user can actually use it to evaluate your own SEO.
Under the SEO Health Check menu, you can see improvement suggestions for each criterion that can help increase your SEO and hopefully your rankings.
It should be noted as mentioned before that not all criteria can be seen as they are used to avoid manipulation of the Backlink Engine. But the most valuable ranking signals are included in the SEO Health Check feature.