Contextual link building is a way of building links to and from websites/pages where the link is meant to match the content of the sites/page on which they are found Or at least have a contextual relation of some sort.
For example, if one were trying to rank for the keyword "backpacked trips" then you would want to build links to pages that are about backpacking or outdoor in general. However, this comes down to how well the "machine" understands the contextual relation.
In this post, we do not focus on what a contextual link is, but on how to build contextual links.
This type of link building is not necessarily done with the intent to manipulate rankings as other forms of link building. Instead, they are utilized to improve rankings for pages with relevant content that actually benefits the readers.
Contextual links are effective because search engines are always looking for sites that are relevant to the content on their pages and search queries. This type of link building is also known as natural link building or white-hat link building.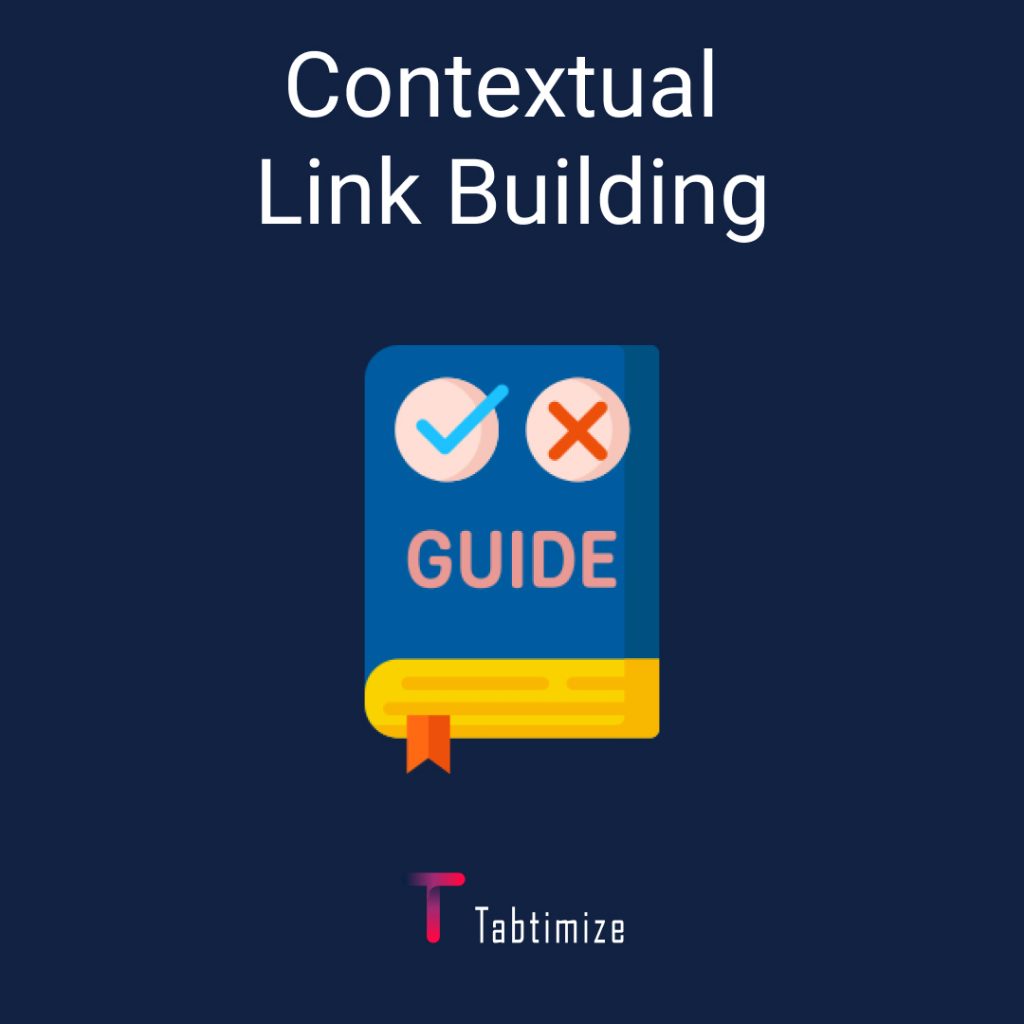 What is the process of building contextual links?
In general, there is not much difference in the ways of building contextual links and other forms of manual link building strategies.
You will first need to prospect contextual relevant link opportunities. How you would do it with contextual link building is to find web pages that have somewhat of contextual relevance to your own target page's content.
Then you will have to find figure the best approach to get a link from the particular site. Being that a niche edit, guest post, or a third strategy is up the way the link opportunity fits in with your context and what contact information you can find for the site/web page.
Find contact information for your link opportunity. So at this step of the process, you want to find a way to actually get in touch with the right person, but who is the right person? Well, that depends on the type of website/business.
Creating a pitch. In order to persuade your target to agree on linking out. A pitch when doing contextual link building should focus on the contextual relevance of your target page and the link opportunity. The pitch should as well contain a high level of personalization to keep the contextual theme high.
I will break down each of the above steps so you can get a better view of how to build contextual links.
Prospecting relevant link opportunities
The first step is to find the sites you would like to get a link from. That sounds easy, right?
Well in theory it is easy, but then doing contextual link building you have to make sure the sites/pages make contextual sense for your target page content to get a link from. There are three ways to doing it.
Manually search for web pages that are contractual relevant for your target page. That means doing a keyword analysis of your own target page, make tons of different advanced searches on search engines like Google for finding pages about the same topic.
Use link building tools to search for sites that rank for your keywords and assess their potential contextual relevance to your target page.
Use a prospecting tool like Tabtimize to get the work done for you.
My recommendation is depending on how many sites you want to outreach to each of the three ways can be the right fit for you.
I will always start out with a manual search. This can give you an indication of the type of sites and of course provide you with the first handful of relevant link opportunities. The big downfall here is it just takes a hell of a lot of time to do.
We have actually done a case on long it takes to find relevant link opportunities manually and we found out the average time spend was 4 minutes. This is without the time spend on keyword research and with all the setup in place.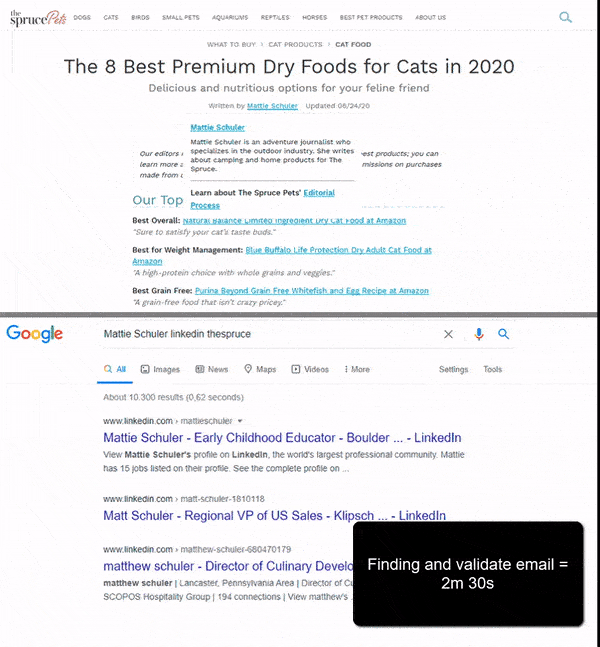 So if you are going to reach out to more than 50 I recommend using a tool.
Finding the contact information
Before I get into how to find the contact information I will quickly touch the subject on which people you should try to reach out to.
This is the order I normally try to get contact information on:
First the editor, then any content managers, then any marketing manager, then CEO/CMO/founder, then the author of the page, then generic stuff like info@ or support@ emails.
When getting the actual email or social media account I will start with the website's contact or about us section. Some websites will have a page about the team and even sometimes their emails or links to their social accounts.
If I had no luck searching their website I will go on to using email-finding tools like Hunter. If I do not have any names I will just do a domain search and hope they have personal emails.
You can as well try LinkedIn and search the company/website to see if you can find any employees.
In general contact, the finding can be difficult and you will sometimes end up have no email or social account to reach out to. But that rarely happens as you can always reach out to their generic email account or company profile social media account, but that is the last resort.
Pitching for contextual link building
The pitch is always the hardest part because this is the one thing that can land you a link. Therefore in contextual link building, it is very important to display that you can provide value to the link opportunity.
Value can come in many forms but to prove that your site and the link opportunity site in some way have a contextual relevant relation is always required.
Depending on who you reach out to. The editor, the marketing manager, or the CEO. The person has different pain points and therefore would require different value propositions from you.
For example, the CEO could be more concerned about the monetary value of your offering. Not saying you have to pay, but what can the cooperation/link provide of monetary output.
The marketing manager could be more concerned about the possible traffic or leads the value proposition could provide them. That might be the case where you pitch a guest post offer and you can provide them with multiple examples where you have to be able to rank a post and drive traffic to it.
This can be done manually or by using a tool that lets you create different templates.
A tool like Tabtimize could even generate personalization based on the contextual relation between your site and the link opportunity's site.
Again are you planning to reach out to more than 25-50 websites I would recommend you to find a tool that can help you save a lot of hours.
Outreach
So now is the final part, namely the outreach step. Now you got your relevant link opportunity, you got the right person to reach out to, you got the perfect pitch, you now only need to reach out and deliver your pitch.
But like all the other parts of contextual link building, this is not as easy as it seems.
When reaching out to email accounts you will have to keep in mind that have a "warm" email account to send your pitches from. The reason here is because cold email accounts could easily get your pitch directly to the spam filter and we don't want this.
Reaching out on social media can also be difficult as most platforms don't allow you to reach out to people you are not connected with or at least your pitch will go directly to spam.
So the key takeaway in the outreach step is to either have a warmed-up email account or trying to connect to the person before sending your pitch.
You can do this manually with your own email accounts or social media accounts, but it can be done with tools as well.
Again are you going for more than 50 link opportunities a tool will save you a lot of hassle.
Follow up on your outreach mails
Even though you have the perfect pitch and you have reached out to the right person, there is always a chance that your email will get lost in the shuffle.
That is why it is important to follow up on your outreach emails.
The general rule of thumb is to follow up two times after your initial email.
The first follow-up email should be sent around 3-5 days after your initial email.
And the second follow-up email should be sent around 7-10 days after your initial email.
In your follow-up emails, you can either restate your initial pitch or you can try a different angle.
For example, in your first follow-up email, you can try to establish a personal connection with the person you are emailing.
And in your second follow-up email, you can try to offer something in return for the link.
But whatever angle you decide to go with in your follow-up emails, make sure that you keep it friendly and professional.
The key takeaway in the follow-up step is to follow up max two times after your initial email. In your follow-up emails, you can either restate your initial pitch or you can try a different angle.
Takeaway: What to remember when doing contextual link building
You want to find sites/pages that have some contextual relevance to your site/target page. You want to make sure you are reaching out to a person who has the clearance to actually implement your link but more importantly be sure that you provide the right value proposition for the type of person you reach out to.
Lastly, if you are doing cold email outreach be sure to warm it up first, and if you are reaching out on a social account be sure to be connected to the person before delivering your pitch.