Link Building isn't going anywhere anytime soon…
You're probably sick of hearing this, but link building is still one of the most important elements of any SEO and digital marketing strategy. But, if your organization's goals are to improve organic traffic and visibility on SERPs, you'll want to continue reading…
But why does everyone hate it so much?
Link-building is arguably the hardest aspect of SEO. For beginners to even the most seasoned SEO professionals, backlink building (the White-hat way) is mind-numbing. But building backlinks are unavoidable because they provide an incredible boost to your rankings that are just not comparable with other SEO tactics.
By now, you've probably seen a plethora of impressive lists of the best link-building strategies to skyrocket your rankings. While it's great that resources exist to help us marketers with the toughest SEO tasks, none really provide an accurate picture of the time/ effort tradeoff it takes to make your goals achievable.
In theory, some backlink building strategies can be great—but not all can apply to your business or industry. Similarly, it may not be workable to take on certain link building strategies because of time or resource constraints within your organization: Take, for example, a swamped small-business owner, or the do-it-all-SEO guy who tends to a multitude of different tasks at once. It won't make sense for them to pull themselves away from other tasks and throw all their effort and energy into one particular link building strategy.
So what's the best way to overcome this? We're glad you asked.
Link Building 101 with Tabtimize
Below we've listed and categorized the best link building strategies that provide serious results and the time and effort it will realistically take to achieve them. Plus, we've also included what resources you should ideally use to make it happen.
Strategy #1: Sharing valuable content (think blogging, infographics, GIFographics) and promoting the heck out of it.
Timeframe: 3-12 months to see significant results, 4-12 hour weekly commitment.
Resources needed: CMS tools (think WordPress, Wix etc.), Figma, AdobeXD, Creative Cloud, etc.
It's no secret that content is king, and that the quality of content you put out can make or break your rankings on SERPs. Creating great content is one of the best ways to attract quality backlinks to your site by showcasing your expertise in your industry and providing relevant material for your site visitors to consume, like, and reshare. One of the best methods to create your footprint online is through blogging, which can bring amazing results for your traffic. We actually created a guide outlining how often you should blog for SEO results. In case you missed it, some key takeaways from the article stress the importance of blogging consistently, updating older content to continue to rank on SERPs, keeping your brand strategy at the forefront, and focusing on quality over quantity.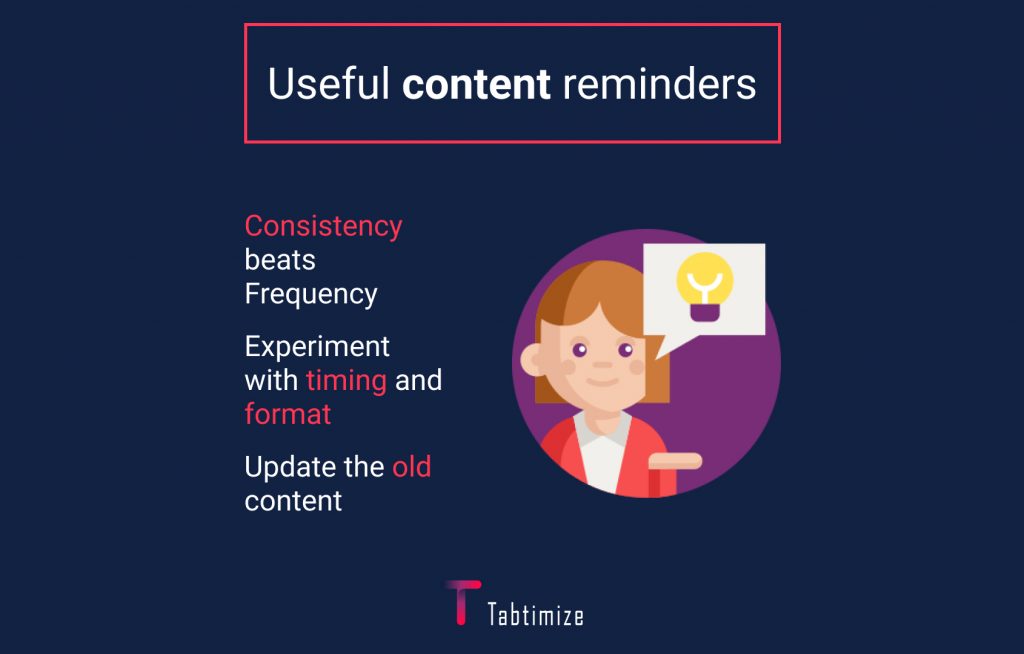 As long as you are producing content that is relevant and engaging for visitors, other bloggers in your industry or community are more likely to link to your content. It benefits their rankings greatly by linking to other relevant sites, increasing their own visibility to Google. Having relevant backlinks from other sources also goes a long way in building your own authority and trustworthiness. While blogging can be a significant time commitment, it is less resource-intensive and only requires access to a well-rounded CMS tool.
Infographics, and more recently GIFographics are also an excellent way to get more backlinks. Image-based content marketing works incredibly well to increase traffic, and many marketers agree that visual-based content is the most important form of content for their business. If done the right way, image-based content marketing can be more effective in encouraging social shares, and virality, than generic blogging alone. (Both should be incorporated for best results).
GIFographics are a combination of GIFs and infographics and serve as a fun, creative way to showcase information. Infographics are already more engaging than traditional text. By adding the element of animation to your infographics can really reinvigorate your visual content marketing strategy. Plus, they're popular!
Once you've taken the time to create your stellar content—it's essential to promote it. It's not enough to create great articles and wait for the search engines to pick them up. Other than including essential SEO optimizations to help search engines pick up your work (think keywords, meta-data, etc.), it's important to share your work on as many relevant platforms as possible. Below, we've outlined some strategies that will help you get the word out.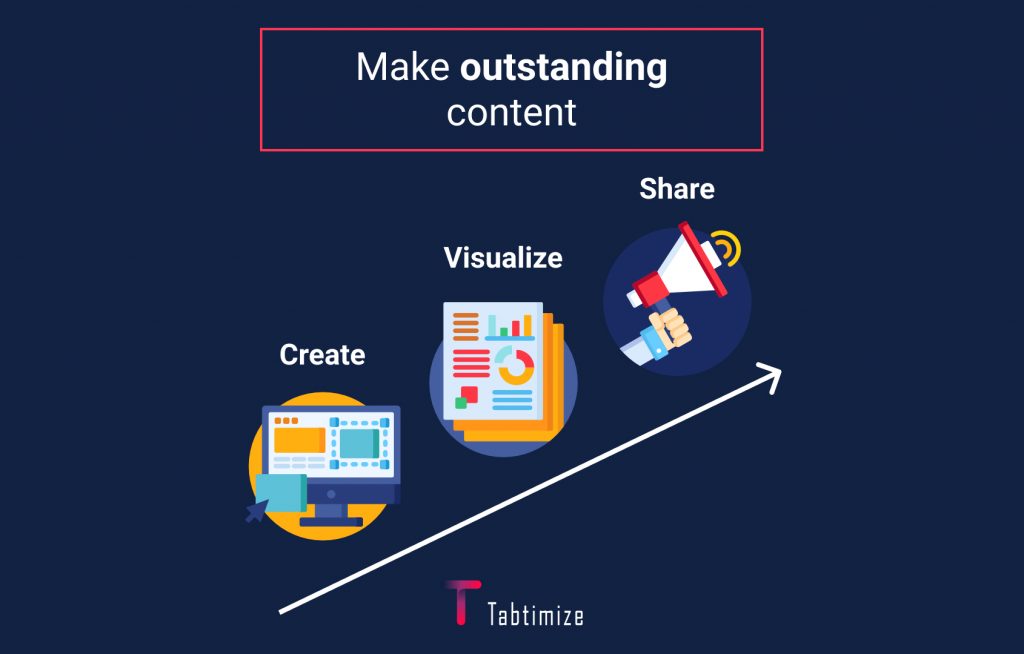 Strategy #2: Increase Engagement & Interactions on Social Media
Timeframe: 2-12 months to see significant results, 1-10 hour weekly commitment.
Resources Needed: Personal/ Business account on Social Media Platforms, Publishing Tools (Think Buffer, etc.).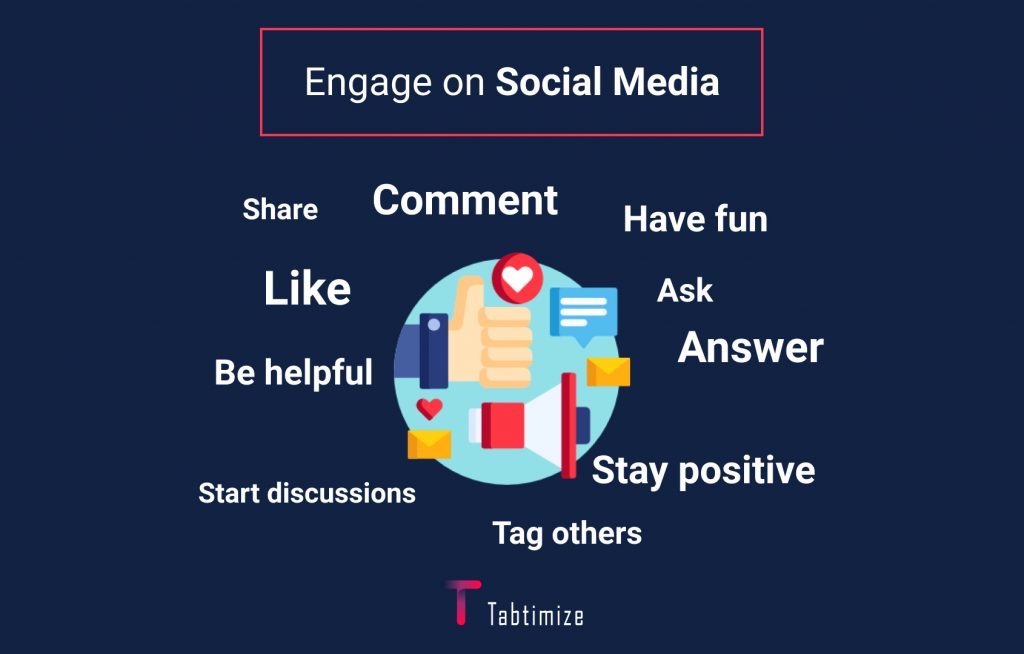 Establishing a solid social media strategy is part and parcel of SEO success. The way people consume information has transformed within the last two decades, and social media has been a revolutionary force behind that change. Now that marketing has transformed into a predominantly digital game, it's important to be on the platforms where your customers are. It's crucial to be part of conversations that are happening in real-time. Increasing interactions on social media is an excellent way to do that. By sharing updates, brands can showcase their brand story, increase brand awareness, and even sell products. Backlinks can be generated from social media interactions by commenting on relevant blogs and sharing links to your own website on social media. Concurrently, sharing recent blog-posts, infographics and other visual content helps to drive organic traffic back to your website.
Strategy #3: Monitor Backlinks Often
Timeframe: Ongoing, 1-2 hour weekly commitment.
Resources Needed: Tabtimize Platform, SEMRush BackLink Audit + Ahrefs backlink checker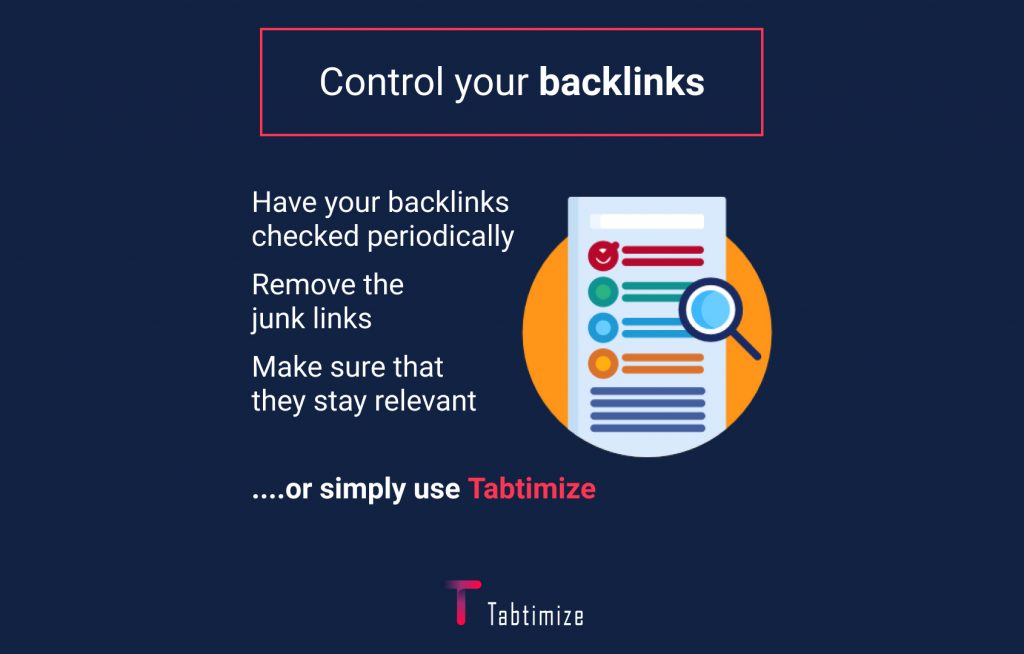 It's important to check the health of your backlinks often and periodically get rid of irrelevant links. It's a good practice to maintain link hygiene, so you can spot and remove links from shady, irrelevant sites. On the Tabtimize Platform, you only see the most relevant link opportunities, which is reflected in their Link Relevance Score. The LRS will automatically tell you if the linking website's content is a match to yours, down to %points. As your link prospects will always be high-quality, this gets rid of the need to monitor them often. That being said, a manual link audit could be beneficial if conducted periodically (once or twice a year).
If you plan on doing a manual check, both the SEMrush BackLink Audit and Ahrefs Backlink Checker are viable tools. On the Ahrefs backlink checker, you can input any URL to see useful SEO metrics such as the number of backlinks, number of referring domains, and others. The SEMrush tool allows you to check if malicious websites have links to yours and help to remove or disavow them.
Strategy #4: Use Resource Site Links if your content provides a good match
Timeframe: 1-5 hours weekly commitment.
Resources Needed: Ahrefs, Scrapebox, Screaming Frog.
Resource page link building isn't a new strategy, it's been around for a while and probably isn't going anywhere. It's stood the test of time because it works. Resource pages are websites that provide links for helpful industry resources on a particular topic, such as vegan cooking, bodybuilding, or first-time parenting. Resource page link building is when you receive backlinks from a resource page in your industry or one that is topically relevant to your business.
If an authority blog or website in your niche has a resource page that you feel you could add significant value to, reach out to the content owner to incorporate your website as well. If your content is valuable and topically relevant, you could earn a powerful backlink.
Alternatively, you could create your own resource page based on the pages of authority blogs in your niche and expand on it. Let's pretend you're in the healthcare industry as a surgical mask manufacturer. An authority blog in your field has created a resource page on the 12 best online sources for masks. You can take it a step further by creating a page that includes 20 or 30 sources. Perhaps you even create sub-categories and include the best sources for coronavirus health information.
Once your updated version is live, you can reach out to content owners of blogs you've linked to. Politely ask them to link to your content as well. Not only is this a generous gesture (you're giving them more exposure), you also create trust because it shows you have used an authority blog as the basis for the link.
Strategy #5: Look for broken links and offer your help
Timeframe: 1-5 hours weekly commitment.
Resources needed: Ahrefs + SEMrush broken link checker .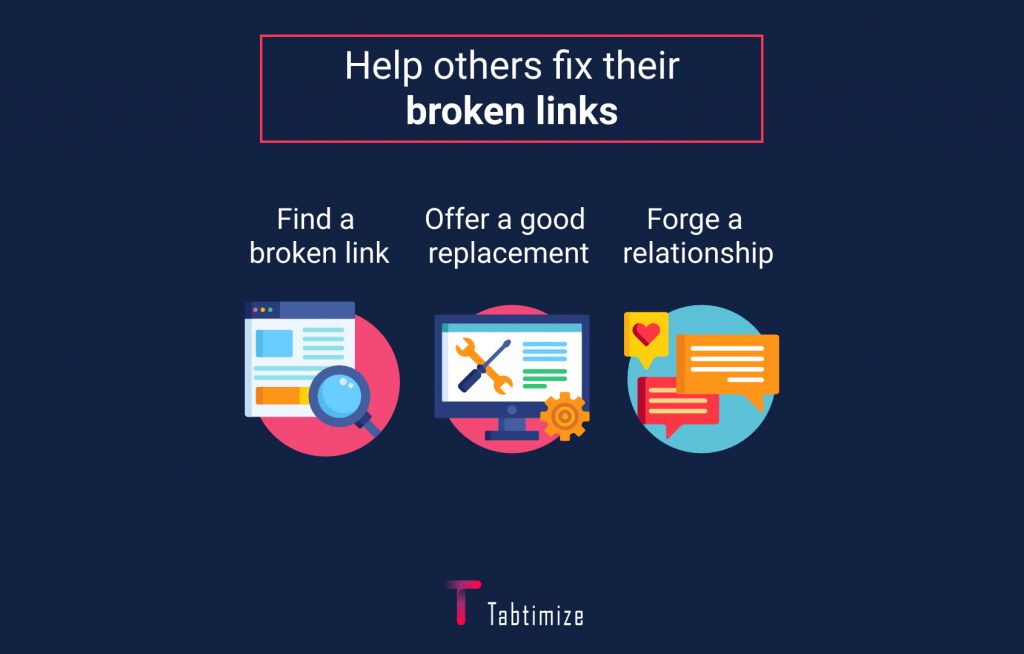 Looking for broken links is another effective strategy that's also been around for a long time. Fixing broken links adds value to people's websites and is much more effective than cold outreach. How it works is by finding broken links (you can use software to do that) and reaching out to site owners to let them know you've found them. Authority websites (and resource pages) have a high number of outbound links, which also means that there is a higher probability that some will be broken. Beyond just being a good samaritan, you can offer your own link as a substitute for the broken one (provided it adds value and is topically relevant). Most of the time site owners will say yes, and will also be grateful to you for pointing out the damaged links on their site. A great win-win situation!
Strategy #6: Find only the most relevant link prospects, and let the Link Relevance Score do the talking
Timeframe: Instant
Resources needed: Tabtimize Link Prospecting Tool (found on the Tabtimize platform).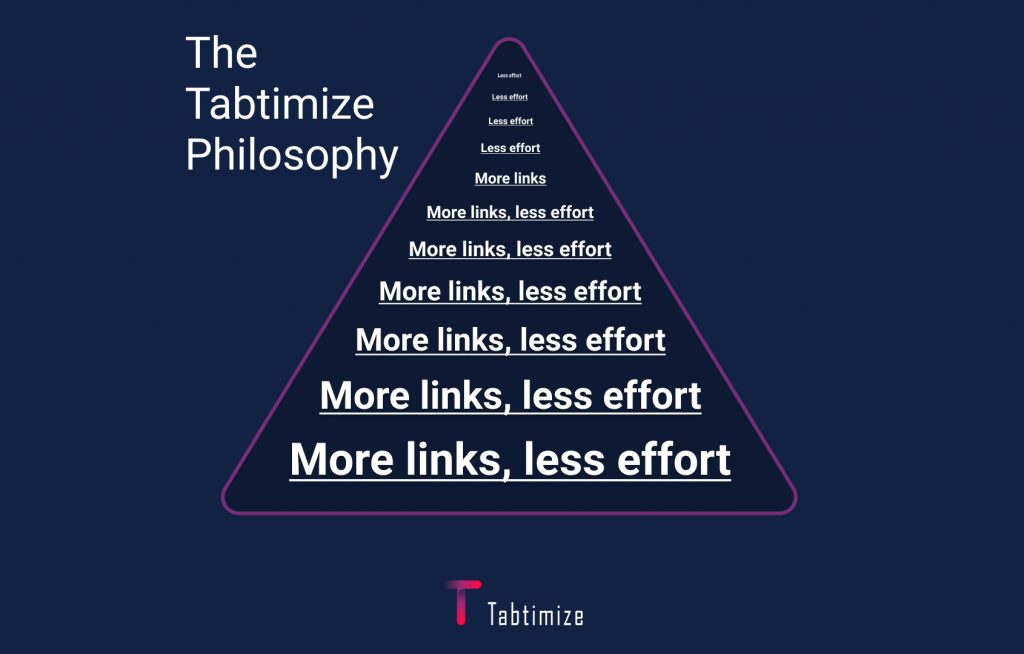 While manual link-building strategies have worked for SEO professionals in the past, we knew there was a better way to get things done. The Tabtimize platform was born out of a need to simplify link building by finding a better way to search for relevant link opportunities.
How?
On the platform, we take the hassle out of link building by doing all the tough work for you. This includes all the time-consuming tasks such as scouring the internet for prospects and searching for content-fit. We know you have more important things to do with your time, which is why the Tabtimize platform can reduce the time spent on link building by 99.83%, (we actually performed a test that can prove it).
As we also mentioned, it's crucial to get all your quality content noticed. Waiting for search engines to pick them up, just won't cut it. Without effort, none of the strategies outlined in this blog would work well either.
The Tabtimize platform can read the content of different pages and analyze it using various diverse NLP models. It also has semantic understanding capabilities that allow it to find valuable information about the content like the topic, keywords, and much more. Once this data is aggregated, the algorithm can break down the exact relevance between two pages down to %points (a metric we've coined as the Link Relevance Score, or LRS).
Fun Fact: The LRS is a metric that is exclusive only to Tabtimize. We are currently the only link building platform that can quantify relevance.
The Link Prospecting Tool also ensures you are only matched to the sites that have the highest topical relevance to your own. The value created by linking to each other is clearly visible, your Link Relevance Score does the talking for you.
It's that easy! No more spending endless hours on the internet searching for relevant link opportunities.
Why can't I just buy links?
Buying links is a frowned-upon practice and can get you in serious trouble with search engines. It can be tempting to give in and buy links since link building can be difficult. However, we never recommend it, namely because cheaply bought links often have zero value in terms of authority or relevance. Links bought from FFA sites, certain PBNs, and link farms can also land your brand next to shady sites. No one wants that.
Once you fall down the rabbit hole, it's a punishing road back up. Alternatively, buying links from "good" sources, such as authority websites cost staggering sums (starting at $300 per link). Not the best idea either.
Closing Comments
Link building shouldn't be a monumental task, but it's wise to have a deeper understanding of what works well, plus the resources and time you need to make things happen. Today, it's less important how many links you have directed to your website, but the relevance and quality of these links. It's crucial to be strategic about everything you do. From curating a meaningful social media strategy to ensuring a seamless user experience and producing quality content.
I'm curious to know which of these practices have worked for you and if there are any other strategies I might have missed? Let me know in the comments below.