We already answered the question, what is the ideal word count for SEO in 2021—so naturally, we should touch on another related topic: How often should you blog for SEO results?
Insights and resources from reputable sources surrounding this topic already exist online. In this article, we won't be sharing any breakthroughs or new research, but sound principles that can provide a guideline to structure your SEO efforts. As with all online resources, it's important to think about context first and remember that not every idea or solution can apply to your business. Besides, no amount of research can compensate for your personal experience with a topic or your industry knowledge. Therefore, it's important to always experiment and find out what works best for your venture irrespective of what authority sources say you should do. Just stay within Google's guidelines, and you'll be on the right track towards sustainable results.
So how often should you post on your blog? Well, it depends!
Think about your business goals
As we touched on earlier, there is a lot of research out there that shows blogging is an indispensable part of any strategic marketing toolkit. We agree, but before you blog away—it's crucial to first establish some strategic goals. Creating high-quality content is only part of the picture, and outlining a strategic plan is the first logical step to forming a robust content strategy. Is it brand-awareness your business is after, or are you looking for increases in organic traffic? How many employees are in your team that can support you?
Growing brand awareness in a small team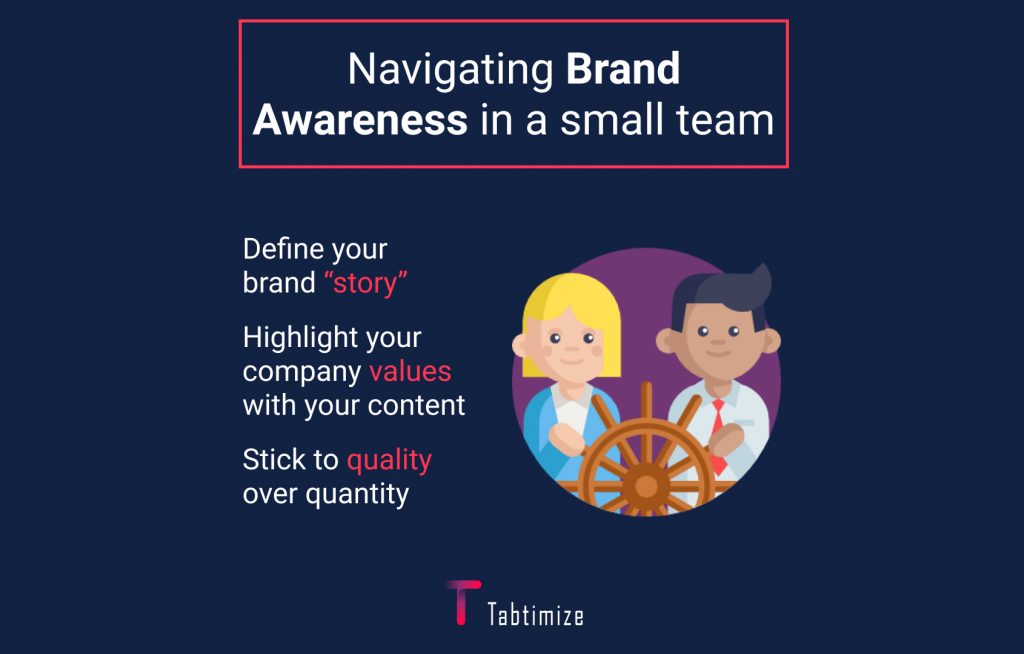 If you're part of a nascent start-up, a private blogger, or the only one in your marketing team available to take on blogging—you have to be deliberate and strategic about your efforts. In these scenarios, the primary focus should be on:
Creating content that draws attention to your brand and sets the stage for your "brand story"
Create content & marketing collateral that highlights your company values
Blog less, but ensure that the quality you produce is exceptional so that readers gain value from it.
In the early stages of brand-awareness blogging, it's more important to produce content that is diverse and that your readers will find valuable. Get into the rhythm of publishing 1-to-2 high-quality blogs a week instead of trying to publish new blogs every day.
Improving organic traffic for an established blog
It's best to ramp up your content strategy when your primary objective is to increase the number of impressions, clicks, and organic traffic to your site. We like to use the expression:
"Go big or go home"
Calibrating your content strategy to amplify traffic, calls for going all-out and being bold in your efforts. How often, or what content you should write about is entirely up to your brand philosophy, strategy, and mission. If you have the team and resources available, aiming to publish blogs roughly 3-6 days a week is a good starting point.
Quantity becomes more crucial at this stage, but it doesn't mean that the quality of the content should be compromised. After all, the only way to ensure you won't be penalized by Google is by following the rules. Google rewards high-quality content, the use of relevant backlinks, and avoidance of spam tactics like over-optimization, etc. It can be tempting to fall into Black-hat traps such as keyword fluffing or buying irrelevant backlinks to manipulate search results, but Google will find you and penalize you. Check out our comprehensive list of what not to do, to avoid penalties on Google.
Content Quality matters
The content of your blog-posts must be high quality, regardless of whether you're posting a few times a week or a few times a day. Google zeroes in on posts they deem valuable to users and places the most relevant in top spots in search rankings. You might be proud of a piece of content, but how can you know for sure it's what Google is looking for?
You are what you E-A-T
Google characterizes high-quality pages by three main criteria, the E-A-T score, which can be found in their Search Quality Evaluator Guidelines. If your aim is to rank on Google, consider developing your website's:
E – expertise
A– authority
T– trustworthiness
Expertise doesn't only mean that you have to be a subject matter expert in a particular area to attract traffic to your website. Though having expert knowledge can be useful, it won't be the only reason users flock to your page. You could be an industry professional with years of experience or even a knowledge enthusiast passionate about a subject, and willing to share (factual) information with your audience. To attract traffic that converts it boils down to how well you can communicate your breadth of experience, passion, or knowledge in a way that users find engaging and delightful.
Authority shows when a website becomes widely recognized as a source of quality information, or synonymous with a particular subject that goes beyond expertise, etc. We think this factor is great-to-have, but not every website is going to be the next Wikipedia, Forbes, TIME, Apple, or any other household name with a large online following. It's a great goal to want to become an authority, but you need to keep in mind that developing authority can take many years of hard work. Every industry and niche can be ultra-competitive, and it takes a lot of work to get to the top.
Aim big, but don't set unrealistic goals for yourself initially. Otherwise, you'll be chasing metrics that don't show the whole picture and limiting the opportunities you currently have.
Trustworthiness is arguably the most important metric out of the three. You can't build expertise or authority without it, which is why we suggest using it as the foundation of your content strategy. Expertise and authority metrics can easily plummet if the trustworthiness of a website is called into question. To increase trustworthiness it's important to follow White-hat SEO guidelines and implement industry best practices for your site. They can include (but are not limited to):
Creating content that is relevant and valuable for users that don't include spam links or misleading information.
Cite information retrieved from other sources.
Link out to relevant and authoritative sources that will be useful for your site visitors.
Only accept inbound links from relevant sources. Use metrics like the Link Relevance Score (LRS) to ensure relevancy between the pages.
Include a privacy policy on your page
If you operate in E-commerce or sell goods online, include shipping and return policies, FAQs, product specifications or safety guidelines, etc.
Ensure your domain is protected and secure for your users, I.e. implement HTTPS, invest in an SSL certificate, etc.
Frequency is good, but consistency is better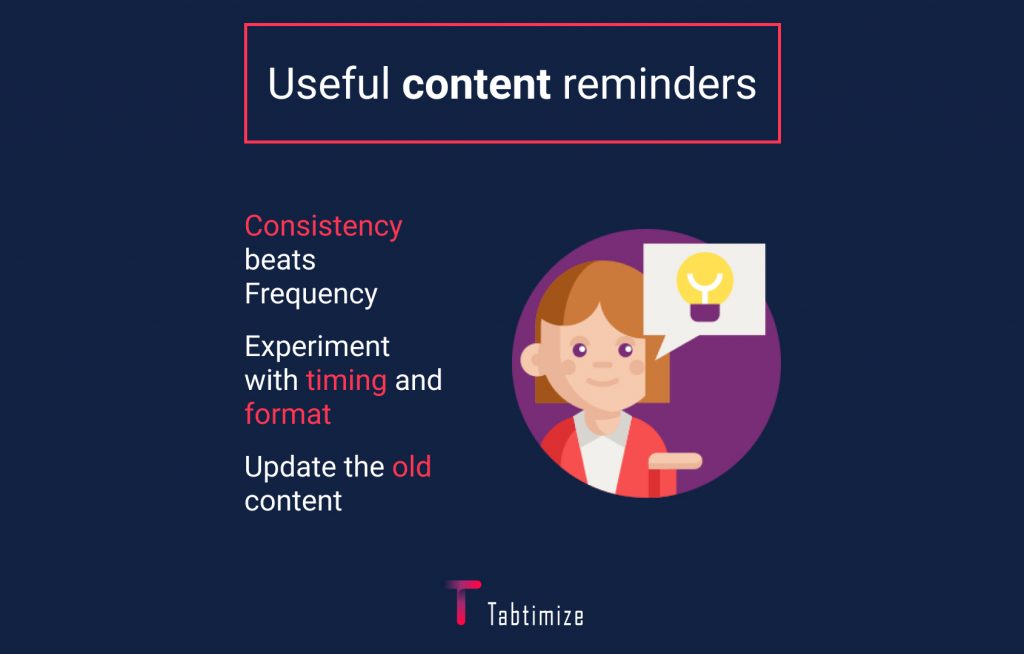 Now that we've established some factors Google considers in their quality guidelines, you're probably trying to figure out what posting frequency would work best for you. As we've expressed earlier, it depends on your objectives: increasing brand awareness or improving organic traffic, but both categories don't have to be mutually exclusive. You could opt for a hybrid model between the two that could work best, given your capabilities and resources. Spreading the word on your social media platforms also helps tremendously in increasing organic traffic.
Experiment Periodically to find your perfect mix & don't forget Social Media Shares.
As long as you're posting quality content frequently, you're bound to see some improvements in your traffic after a period. However, we can't stress enough the importance of consistency. For example: if you have a set schedule of posting two times a week on Mondays and Fridays—stick to that schedule. As your traffic increases and readership grows, your audience will come to expect new information in a timely manner.
How often you should publish blogs really boils down to how much you can commit to, without overextending yourself. Posting inconsistently is a serious mistake, as a large amount of time between posts can alienate your readers. They may no longer expect new information from your site and eventually forget you. You don't want this to happen, so look into creating an editorial calendar or content planner to help keep you on track.
Update older content often
It's worthwhile to go back into the archives and A. Repurpose or B. Update older content. By updating older posts with new data, statistics, and/ or developments, signals to Google that the information is still reliable and up-to-date. The more relevant your posts are, the more likely Google is to continue to rank your posts in the keyword search.
Bottom Line
It's no secret that blogging can reap multiple rewards for your site—but starting and maintaining a blog can be hard work. The best approach to blogging is to commit to publishing content as much as you can, sustainably. There isn't an exact science or golden ratio you need to be following, so experiment and find what works best for your venture. It's important not to overextend your resources or publish sub-par content just for the sake of posting, which can also lead to losses in traffic.
I'm curious about what frequency of blogging works best for your website, and what have your individual experiences with blogging been like? Let me know in the comments below.