SEO Magic happens when the 3 most fundamental aspects of search engine optimization combine.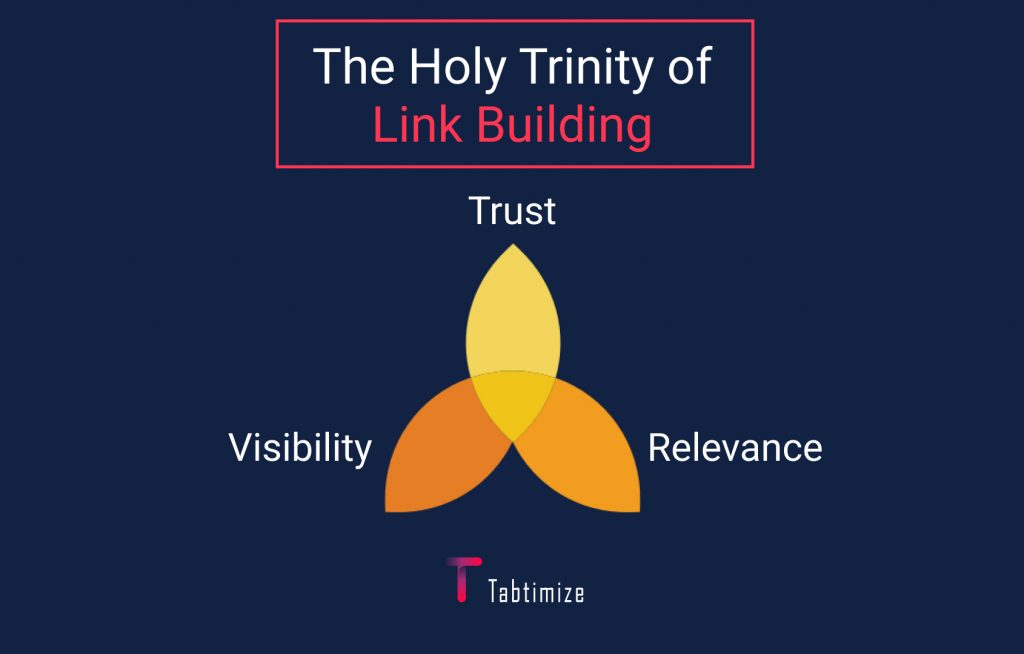 Trust, visibility, and relevance, are the foundational elements of any SEO and link building strategy—with relevance, undoubtedly being the most important of the three. Without relevant backlinks or content, a website can't achieve high visibility, authority, and the coveted spots in the search engines. There are really no shortcuts for success here.
It is common SEO knowledge that links from relevant and authoritative sources make a "worthy" backlink. Google aims to provide the most relevant search results that come from trustworthy sources, and though they have multiple different ranking factors, they focus heavily on relevance, giving higher weight to topically relevant sources over others. According to a Google patent released in 2010, topical relevance in SEO is weighted higher than static authority metrics. So you could technically have high domain authority, but if your content is even slightly irrelevant to a user's search—it won't show up as a top result.
The logic seems simple enough.
Yet, for many years, most of the dominant SEO software providers have been focusing on authority indices as an indicator of a "strong" website. They've been telling us that building authority links and achieving domain authority is what will give you the best shot at SEO success. We agree that authority can be useful and that it's a good metric to calculate—we just don't think it tells the full story.
The "R" Factor in our backlink software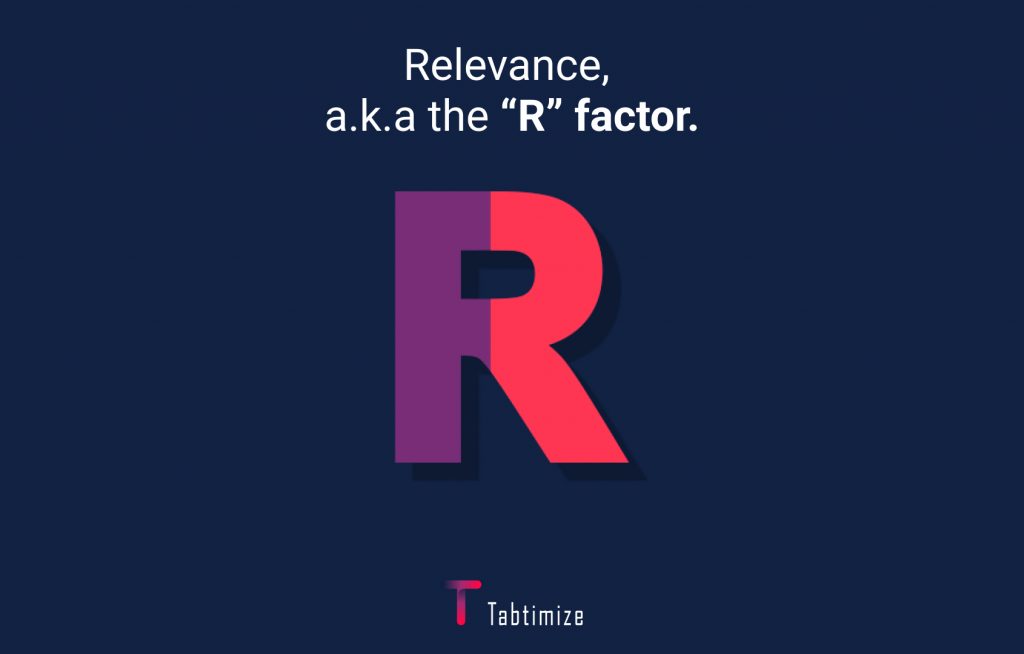 As stated previously, it's a well-established concept that authority and relevance in SEO are a fundamental part of any SEO strategy, but the SEO landscape is also a volatile one. Today's SEO professionals are already spread thin and need to have an overview of multiple things at once to stay ahead. This includes responding to changes and updates to the search engine algorithms, labouring over backlink building, creating valuable content for SEO, amongst a plethora of other tasks.
The recent Google update has seen many websites take a beating in their Domain Authority score, yet see a climb in traffic and impressions. How can this be? We chalk it down to the "R" factor…relevance.
We've been asking ourselves for a while now if the archaic way of looking at link building in SEO still holds value in today's context. While we think that DA is important and has its place in link building strategy, the real goldmine lies in relevance. A site with strong DA but irrelevant results can't go far on just domain authority alone.
The Tabtimize Philosophy
Repeat after me…
More links, less effort
More links, less effort
More links, less effort
More links, less effort
More links
Less effort
The Tabtimize platform was born out of the need to simplify the dreaded link building process—one of the most challenging aspects of SEO and digital marketing. Our vision was to create an all-inclusive platform that would make the process smarter, more sustainable, and easy enough to make link building (gasp) a pleasant experience!
Our mission depended on the ability to create a way to find contextually relevant link opportunities and a metric that could actually quantify relevance, something that hadn't been possible until now.
What makes Tabtimize different?
Everyone in the SEO community talks about relevance and how fundamental it is for rankings, traffic, and link-building.
Card
Relevancy – SEO's Killer Factor from r/SEO
While we wholeheartedly agree, we wanted to take it a step further and actually be able to prove why, down to a percentage point.
After several years of research, testing, and going back to the drawing board—our platform came to fruition. For the first time, we discovered a way to simplify the link building process (by 99.38%) through smart A.I.
How does it work?
Through A.I & semantic understanding, our platform can do all the time-consuming research and retrieve the most contextually relevant link opportunities for your site. The technology analyzes web-pages through 7 levels of text and context analysis, and can quickly deduce valuable information such as what the content is about, relevant keywords, topics, and much more. Post-analysis, the software can break down in% points the contextual relevance of all pages in the database and match you to the most relevant ones. You can find a complete guide and video tutorial on how our platform works, here.
What else can it do?
We didn't just stop at quantifying relevance for you. When the concept for our platform was in the works, we had the average marketer in mind. We've struggled with every aspect of link building and SEO ourselves, so we know how it feels to be in your shoes. As a team, we felt the outreach and pitching aspect of link building was inefficient and frustrating and wanted to find a solution that could possibly eliminate the need for a pitch.
Let the Relevance Score do the talking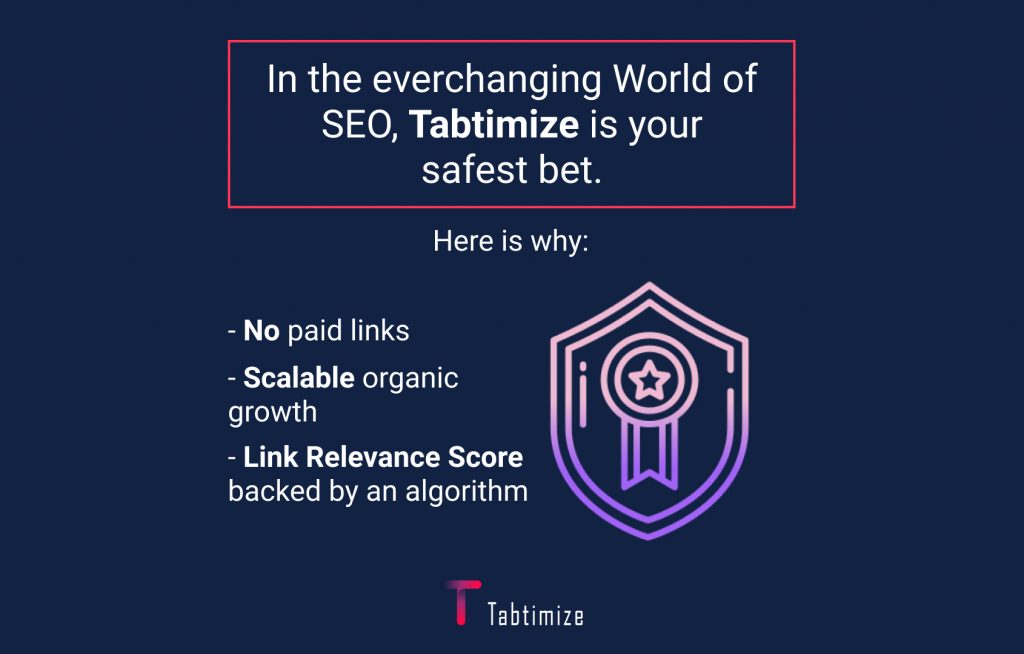 The platform and its relevance metrics have the ability to show the contextual relevance between pieces of content, down to an exact percentage—which actually eliminates the need for a pitch. Since the value of linking from Site A to Site B is clearly visible, what you write in your pitch becomes less important, just let the relevance score do the talking.
On the Tabtimize dashboard, you're able to connect with the site owner through a message template that we create for you. It includes the Link Relevance Score (between linking both sites) and our suggested anchor texts. You have a complete overview and control over the entire process, and can craft your own message or use your own anchor text if you choose. It's that simple. No more scouring the internet trying to find relevant link opportunities and people to reach out to!
Closing Comments
Relevance in SEO and the use of contextually relevant backlinks are what will drive the kind of traffic to your site that results in conversions. While other metrics are good-to-have, none are as powerful as relevance in creating an experience with user-intent at its core. It's a known fact that high DA links are not only rare but also very difficult to get. By chasing only DA you will vastly limit the prospects you can reach out to and potentially limit your SEO efforts.
That being said, all metrics have their place and we believe the best approach to SEO is holistic. Metrics such as domain authority, relevance, content, and engagement are all important pieces in the SEO puzzle designed to help get you closer to your objectives. Tabtimize is proud to be the first software provider to help users find contextually relevant link opportunities without the hassle.