Even before the coronavirus pandemic, Tabtimize has always been a 100% remote team.
Most of us haven't met in person, while the rest are scattered across different cities in Europe and Asia. Even without meeting face-to-face, we've taken Tabtimize from a basic concept to a working platform in just over a year and a half.
From the get-go, the idea has always been that Tabtimize should be a predominantly remote team. Our founder, Julian, elaborates why:
"The whole idea of how Tabtimize should take shape is that I, myself, want geographical independence and we want that for everyone else in the team if they like. Therefore, we also have no requirements for where in the world each other sits."
We've been able to make the best of remote working, though it isn't for everyone. We might even stay remote forever! #futureofwork
How do we make remote working work?
Aside from using great tools like Slack & Skype (just to name a few), remote work works for us because we are dedicated to 3 important things.
Open & Consistent Communication: Most of us are in meetings several times a day, but we always touch base with our teams at least once a week. Like clockwork, Marketing meets every Monday at 10 AM, followed by UX and developers later in the afternoon.
Towards the end of the week, the different departments touch base with each other to stay on top of the different projects each team is working on. At Tabtimize, we don't believe in micromanagement, instead, we measure productivity in terms of output—not time spent on tasks. Our team consistently sends updates on what they're working on that specific day and the outcome.
Building a dedicated team with an entrepreneurial mindset: We must work seamlessly as a team with little direction, so it's important that our team is flexible and can "think like a CEO". Thinking like a CEO is the ability to make smart, mature decisions that make the best use of their time. It's about creating value, without needing to be pointed in the right direction. Having an entrepreneurial mindset is so important because it reflects our company ethos. Tabtimize started as a one-person team whose vision was to simplify the link building process. Though we've grown to 9 members, that ambitious and pioneering spirit remains.
We think the best environments are where people feel confident enough to make decisions and take bold steps for the company. When we look into adding new faces to the team, we gravitate towards people that have the same values and spirit as us. Who you are as a person means a great deal more than what your CV says you have done.
End-results and productivity matter, not how many hours you stay glued to your seat: At Tabtimize, we are more focused on what you can accomplish than how much time you spend working on a task. We like our team members working in areas and on tasks that truly interest them, as we feel it positively influences productivity. We are strong believers of working when you feel the most productive, so if that means a team member starts their day at noon, that's fine by us. Having a flexible work structure also makes it easier for some of us that are parents, have spouses, or outside commitments that are integral to our lives. Everyone can appreciate the extra time to dedicate to family life or other activities outside of traditional work hours.
What's the company culture like at Tabtimize?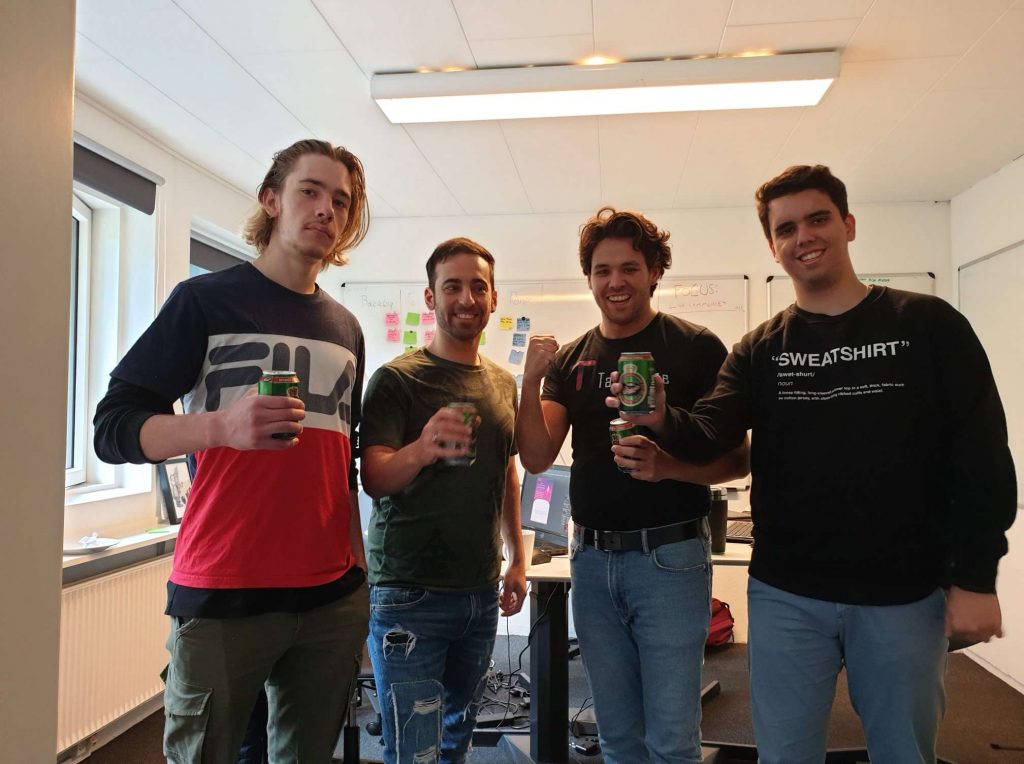 Pictured above: Our developers Jakub, Nikos, and Alejandro with our Founder Julian (center right) on the day we got our pre-seed funding! (Hence the Beers?)
We're a young, agile, team and hail from 7 different countries. We all have diverse backgrounds and experiences, but share a common love for technology and marketing. We thrive on innovation, so it's less important to us what you studied in school, but what ideas you bring to the table. That being said, our team brings over 20+ years of combined experience in the SEO and digital marketing world and has experience working in agencies, corporations, and freelance consultants.
At Tabtimize, we're serious about what we do, but also leave room to share our interests outside of work. Some of us are avid gamers, photographers, programmers, and fitness enthusiasts. We don't restrict our conversations to simply "work" because we are genuinely interested in what our team members are passionate about and what drives them.
What does our office space look like?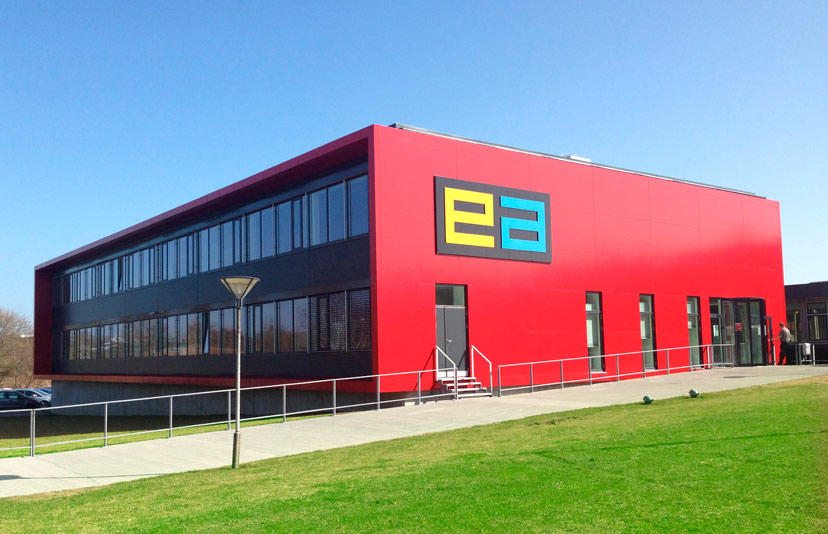 Pictured above: IDEA House EASV
Though more than half of our team works from home and abroad, we have a small set up in Idea House—a startup incubator. Idea House is a part of EASV, a local university and business academy in Esbjerg, Denmark. Our company headquarters are also in Esbjerg, as that's where our founder Julian lives, along with three of our developers and two UX designers.
Our working space was originally intended for EASV students who wanted a space to develop and test their entrepreneurial ideas. EASV's ambition of bringing students closer to the local business community led to the collaboration with Tabtimize. We received a new co-working space and could provide 3 EASV students with internships, with two already transitioning into permanent positions with our company.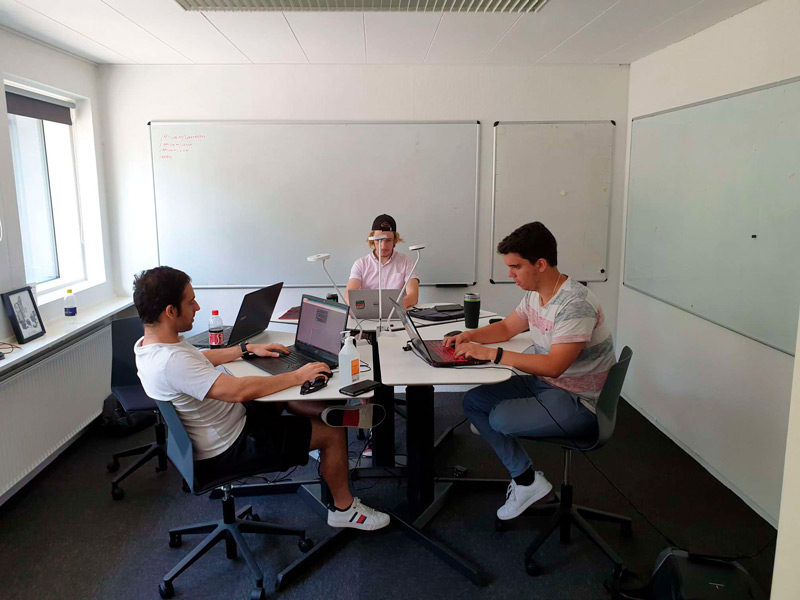 Pictured above: Our first week at our workstations at IDEA House EASV. (Note: It's a lot bigger and messier than this now)
Final Thoughts
Like us, there are a multitude of companies that have adapted well to remote work. Some may have used similar principles, while others may have experimented with totally different methods. There isn't really one secret for success or a one-size-fits-all approach. Remote working full time is a big change for most, and it's perfectly normal to have hiccups along the way. We know the approaches that have worked best for us and hope some of these insights can be valuable for your teams as well.
The pandemic has transformed how the world works. Although some companies can't wait to get back to the office soon, we're perfectly content where we are.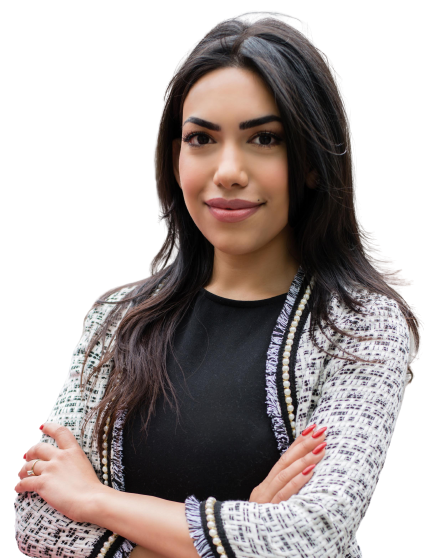 I hope you'll find this post useful.
If you'd like to find out how our team can help you, Sign up for free below.